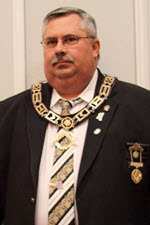 I would like to give thanks to the brethren of this Grand Lodge in allowing me to serve as your Grand Master. I am honored beyond words.
It is impossible to fill the shoes of the great men who have served this Grand lodge before me. I know that I am unable to please everyone in this Grand Lodge. Therefore it is my promise to you brethren, that I will do my best to please God in all actions as Grand Master.
Appreciation is due to the Grand Lodge office staff and the Grand Lodge Website Committee.
I have the utmost confidence we will prevail in our endeavors this year with the help of the outstanding men serving as Grand Lodge officers.
May God bless each of you and our Great Fraternity.
Fraternally submitted
Edward Rhodes,
Grand Master, 2016
Grand Lodge of Mississippi, F∴ & A∴ M∴