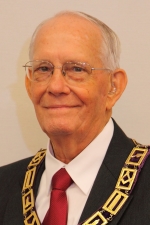 A special thanks of appreciation is due to the Grand Lodge Website Committee. These dedicated Brethren go out and beyond their call of duty. This is a great means of information that we did not have several years ago. We all need to visit the Website every day, if not we might miss something of very importance.
I first want to express to you how much I appreciate the honor of serving this Grand Lodge as your Grand Master. I pledge to you that I will strive to uphold the dignity of this great fraternity to the very best of my ability. I also promise that I will strive not to do anything that will tarnish this Great fraternity. By the grace of God and you dedicated Masons of this Grand Jurisdiction I have the utmost confidence we will prevail in our endeavors this year.
Freemasonry is the oldest, largest and most prestigious fraternity in the world. Freemasonry is, in essence, a society concerned with moral and spiritual values, which offers its members an approach to life that endeavors to reinforce thoughtfulness for our fellowman, kindness in the community, honesty in matters of business, courtesy in society and fairness in all things. From time immemorial Freemasonry has taught its initiates through signs and symbols. Freemasonry is a science and through intense study you can become a better informed Mason. It takes good men and through the teachings of Masonry they will become better men in their actions toward society, their families their neighbors and their country.
First, how did Masonry become the largest and most prestigious fraternity in the world? They took good men where personal honor was part of their character, men who followed the example of God fearing men, those of high moral character, respect for their country and their God. They were proud to be Masons. They kept their obligations sacred. Brethren, let each of us strive to become better Masons today than we were yesterday.  Not better than someone else but better than ourselves.
Fraternally submitted.
Fred F. Bean,
Grand Master, 2015
Grand Lodge of Mississippi, F∴ & A∴ M∴